Mama Bears Eco-Kidz looks closely at the characteristics that make children so wonderfully unique. Creating active learning centers where each of these characteristics can blossom. With learning centers that are set up to encourage cognitive, social-emotional, communication and language, and sensorimotor development. Providing a rich-play and literacy environment which meets children's natural interests.
Combining a Read, Play and Learn curriculum that incorporates the wonderful, magical ideas and themes of storybooks into situations in which children can play interactively with meaningful props, and engage in activities and games that reinforce the development of concepts, skills, and relationships. Providing storybooks that capture the interests and imaginations and provides the framework for young learners to become involved in experiences that challenge them developmentally.
This program uses the interests and skills that children bring to the program to move children to higher levels of cognitive, social, motor, language, and literacy development.
This program also offers opportunities for vocabulary expansion, concept development, interaction, and problem-solving, especially when children are excited about the adventures brought to life in these remarkable stories.
This is the ideal atmosphere for many stages of cognitive development for real experiences, and for sharing ideas with friends. Day to Day life experiences take place in our learning centers through the children's discovery of their own abilities to observe, describe, predict, manipulate, and experiment with challenging and interesting materials.
Mama Bear's gives the children a warm and loving in-home eco-friendly environment that is rich in play and literacy. Teaching the love of reading and how to be a good friend to animals and the environment through recycling, composting and gardening.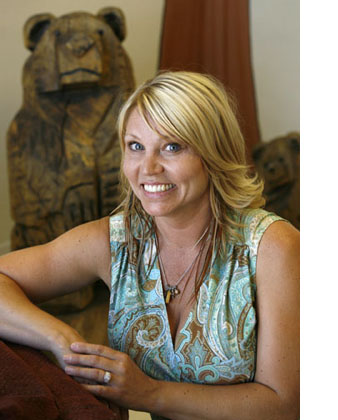 Mama Bear Oden In Her School